Thanksgiving special: A look at Jesuit basketball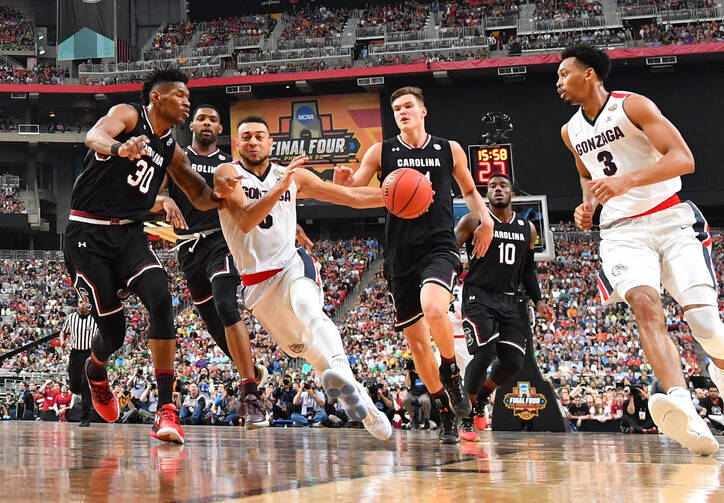 Gonzaga Bulldogs guard Nigel Williams-Goss (5) drives to the basket past South Carolina Gamecocks players during the semifinals of the 2017 NCAA Men's Final Four April 1 at the University of Phoenix Stadium in Glendale. Gonzaga, a Jesuit-run university in Spokane, Wash., beat South Carolina 77-73 to advance to their first national championship. (CNS photo/Bob Donnan-USA TODAY Sports via Reuters)
This week, we talk with Brian Larkin of the Association of Jesuit Colleges and Universities. Larkin is part of the Jesuit Basketball Spotlight. Founded in 2018, the J.B.S. is "a nationwide effort to capitalize on basketball games between Jesuit schools and, through those games, bring greater positive awareness and exposure to Jesuit education and its shared mission."
We talk about its creation, the Jesuit Player of the Week, greatest moments in Jesuit ball history and why he thinks Patrick Ewing should be canonized.
No Signs of the Time this week because it's Thanksgiving. We are super thankful for all of our listeners. As always, we appreciate your feedback, so email us at jesuitical@americamedia.org or follow us on Twitter at @jesuiticalshow. While you're home eating turkey, tell your family about us and make sure to follow us on iTunes and leave us a review.
Enjoy the holidays and we'll be back with our regularly scheduled episodes next week.
Happy Thanksgiving!