A brilliant 17th century nun is brought to life on Netflix
"Clear the way for the entrance/ of the bold adventuress/ who undoes injustice/ who smashes insults." The poetry and passions of the 17th-century Mexican nun Sor Juana Inés de la Cruz are given new life in "Juana Inés," a Netflix original series now available in the United States. A longtime favorite of the secular literary world for her remarkable range—known as the "first feminist of the new world," she was equally adept writing love poems and plays as she was penning theological essays—Juana Inés remains a complex figure for Catholics. This new series pushes boundaries and forces viewers to consider how intellect, desire and faith intersect.
In the first scene of the show, her aunt and uncle want to send Juana Inés away. "You're young, beautiful and intelligent," they say. "The court is a perfect place for you to find a husband." She scoffs at the idea but not simply to be rebellious. The daughter of a Creole mother and a Spanish father, Juana Inés has struggled to find a personal identity, guided instead by the desire to gain knowledge.
She is precocious, curious and brilliant beyond her years. Upon her arrival in the royal court, she discovers a room where the viceroy and vicereine of New Spain are being entertained by musicians. Juana Inés interrupts the scene and recites a comical poem for the audience. The vicereine offers a standing ovation and a request: "I want her as my lady-in-waiting."
"If you would have me choose between obeying God and obeying you, Father, with no desire to offend, I choose God."
The other women are immediately jealous of Juana Inés—and so are some priests. Father Antonio Núñez, a stodgy and ambitious Jesuit, is her foil. In addition to being the royal confessor, Núñez is tasked with ensuring that secular knowledge never stains reverence for God. ("If it's on the Index," he says of a book, "it burns.") When the vicereine wants Juana Inés to tutor her daughter, Núñez rebukes the non-traditional choice.
But Juana Inés is too clever for him. She passes a rigorous "test" in which intellectuals and priests bombard her with questions about philosophy, astronomy, mathematics and theology. She is precise and poetic. Núñez tries to nudge her toward heresy with lines like "Love is not an exercise of the will but of obedience," but she turns the questions on him, asking to whom she should be obedient—men like him? "If you would have me choose between obeying God and obeying you, Father, with no desire to offend, I choose God."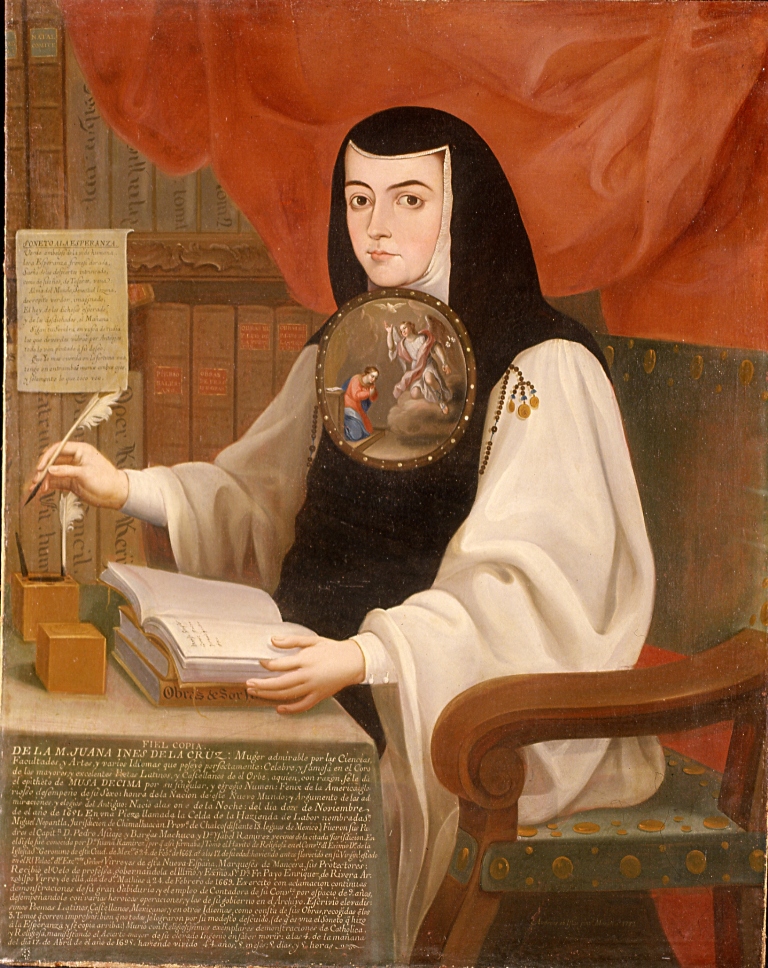 The vicereine's interest in Juana Inés soon becomes a romantic one, and though she has penned poems of praise for the vicereine upon request, she sees her elder more as a mother than a lover. Yet Núñez uses the pretense of scandal to drive Juana Inés to a Carmelite convent. That cloister is torturous for her. She leaves but later joins the Hieronymite nuns. Núñez wants to break her spirit under the false pretenses of saving her soul; Juana Inés uses the placement to pursue her writing.
When a new leader for the colony arrives, his wife immediately becomes enamored with Juana Inés. This time Juana Inés gives in to her desires, breaking her vows and embracing the scandal that she distanced herself from earlier. The affair does not last, but Juana Inés cannot escape provocation in her life—especially when she writes an essay critical of an influential Jesuit's preaching. Although they censure her, the priests cannot help but admit her brilliance: "When Sor Juana has a point to make, she writes like lightning."
"Juana Inés"is influenced by, but not bound to, true events. In reality, whether her Sapphic verse was a result of a literary persona or more autobiographical will remain a secret to us. Yet the melding of fiction and fact creates an intriguing show that raises important questions. Often secular critics view Sor Juana's religious life as merely an intellectual convenience than a real vocation.
In this simplified view, Juana Inés had to discard the trappings of belief to achieve literary greatness. Instead, much like Gerard Manley Hopkins, Sor Juana found both tension and sustenance in her religious life. She had criticisms of the short-sighted men who sought to quiet her voice, but she looked beyond them to God, whom she saw as the source of her wisdom. "You foolish men who lay/ the guilt on women,/ not seeing you're the cause/ of the very thing you blame"—her true audience was more transcendent and eternal. Rather than evidence of disbelief, the struggles of "Juana Inés" reveal deep engagement with the divine—the type of wrangling that creates beautifully fractured art, worthy of our present attention.