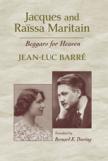 Jacques Maritain was the incarnation of Catholic intellectual lifea spirit alive with ideas, supremely sensitive to other persons, filled with the charity of the Gospels. His journey in this world toward the homeland beyond was made possible, as he thought, by his companion and wife, Raïssa Oumansoff. Together, as students they found themselves in the abyss of the absurd, atheists thinking human intelligence could never attain the truth. Together, they vowed to commit suicide if enlightenment did not come. Together, they discovered the possibility of philosophy through Henri Bergson. Together, through Léon Bloy, they discovered the joy of faith. Together, for over 50 years, they lived a life of prayer. It is eminently appropriate that Jean-Luc Barré's biography should link them as its joint subject, Jacques & Raïssa. The book has been translated into English by Bernard Doering, himself an authority on the Maritains.
What is most surprising to an old admirer of Jacques is the darkness of his youth and his relationship to his parents. Jules Favre, his grandfather, had once been the lawyer of Félicité de Lamennais. He became minister of foreign affairs in the unpopular government that suppressed the Commune and made peace with Germany after the fall of Napoleon III. The woman he took as his wife he was unable to marry because there was no divorce in Napoleon's France. From that union came a strong and embittered daughter, Geneviève, who married her father's law clerk, Paul Maritain. Shortly after Jacques' birth in 1880, the couple broke up, and Geneviève took advantage of the new French law to divorce her promiscuous husband. Jacques joined the procession of French writersAragon, Cocteau, Malraux, Mauriac, Montherlant, Sartrewho grew up without a father. Jacques's conversion at the age of 23 accelerated his alienation from his mother.
Raïssa was not quite as detached from her family. Her grandfathers on both sides were devoutly religious Jews living at Rostov-on-the-Don, where she was born in 1883. In 1893, her parents became émigrés to France, and the world of Hasidic piety was replaced by one of secular conventions. In her father's last illness, she led him to baptism and Communion, at the cost of distressing her mother. Her sister Vera came with her into the church. Like an early Christian, Raïssa saw no repudiation of her people in the acceptance of salvation through the Messiah.
The world Jacques and Raïssa created together was a world of ideas and of friends, of whom the first was God. Their human friends were remarkable Charles Péguy, Ernest Psichari, Georges Rouault. Later, there was Charles Journet, Jacques' most sympathetic friend among the theologians, and intense admirers, among them Charles de Gaulle, Czeslaw Milosz and Giovanni-Battista Montini, later Paul VI. Montini enabled Maritain to escape unharmed from la grande attaque, launched against him by curial diehards in the 1950's.
Barré tells this very French story of ideas and friendship and ideological enemies with insight and empathy. For most American Catholics, Jacques Maritain is the man who, with John Courtney Murray, S.J., turned the Catholic Church from the Syllabus of Errors into the champion of human freedom for everyone. His seminal book remains The Person and the Common Good. For those who have known Raïssa chiefly through Jacques and Jacques through his books, this substantial account of their lives will introduce a man and a woman passionate in their causes, prayerful in all circumstances and intrepid in the integrity of their humanism.
The failure of the philosophy departments of secular American universities to take account of Maritain's work during his lifetime is an intellectual scandal illuminating the closed-mindedness of persons professionally devoted to philosophy. Barré notes how even at Princeton, where Maritain became a professor, he was not accepted as a member of the department. President Harold Dodds had to go outside the regular budget to pay his salary. The department would not acknowledge that there were ways outside its own.
I end with a personal reminiscence: I attended one session of a seminar that Maritain taught at Princeton. His topic was evil, paralleling St. Thomas's fundamental work, De Malo. I was struck by his courtesy toward his students and his gentleness toward questioners, including me, a visitor. Evil is patient of no philosophical explanation. It is, as Maritain thought following St. Thomas, a kind of nonbeing. But does not the Creator create the being that fails to function? At that point there is only a mystery. Jacques Maritain was wisely content to say no more.